This Is How A Bachelor Party Medellín With Us Looks Like (A Classic One)
In this sample guide, we show you how can be a Bachelor Party Medellín through a sketch of a 3 days and 2 nights itinerary so you can have some ideas about the nowadays so famous bachelor parties in Medellín Colombia.
One of the great things about a bachelor party Medellín is the variety of fun spots and exciting things to do and enjoy at a much more affordable price and with more beautiful women everywhere you go than in any of the other best bachelor party destinations in Latin América and the United States (Las Vegas, Nashville, Austin, Miami, New York, New Orleans), Medellín Colombia can beat them all.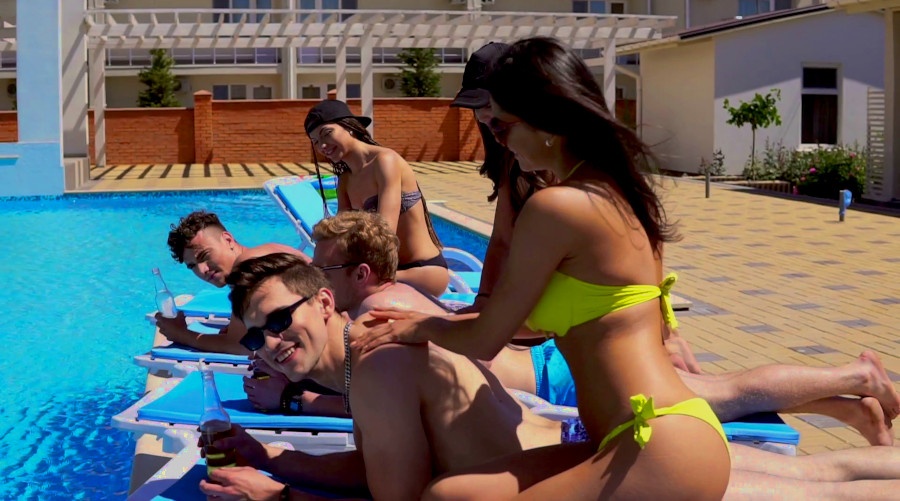 Even the most luxurious vacation rentals, nightclubs, strip clubs, boat parties and adventure tours in this modern and evergreen city (with one of the best weather in the world) and the kindest people of Colombia, can be enjoyed in an all include amazing VIP party package and still be cheaper than you would expect.
Having said that, let's move on and start with this VIP bachelor party Medellín trip itinerary.
At the José María Vargas International Airport, will be waiting for you (the groom and his squad) one of our city VIP concierges, who will welcome you and on the way to your luxury party accommodation will tell you about a bit about the city and will ask about your group's preferences, dislikes and general expectations of your bachelor party in Medellin experience.
Depending on the arrival time of your flight, once in your stay, and after some basic logistics and security guidelines for the group, it would be great to go to eat something delicious somewhere nearby, or if you are still tired because of the flight, we can order home your favorite food while you and your buddies relax around the pool and see all the amenities of your private bachelor party house.
Already eaten and rested, a car visit through some iconic spots around the city and a walking tour through El Poblado and Parque Lleras would be a great way to meet and discover more about the city, its people and the festive atmosphere of Medellín.
Later on, everything would be ready for an ATV ride to the outskirts of Medellin, where the fun, the beautiful views of the countryside and the weather will make you enjoy a spectacular afternoon.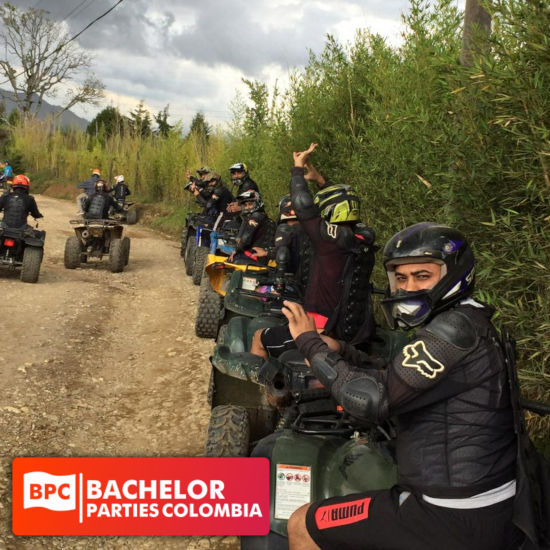 At the night, after returning home, having had dinner and dressed a bit elegant, would begin the nightlife tour across the Lleras Park to warm up the engines visiting some nice bars. Then, if dancing is your thing Gusto Nightclub or Envy Roof Top would be a great place to go party (rumbear) and flirt with gorgeous women.
Later, when you give the attack signal, we will take you to one or two of the best striptease clubs in Medellin (for now the names will be a secret) for explicit fun and debauchery until the time you want to come back home (yes, because you have to come back home any moment).
Not so early in the morning (unless you are some kind of Spartan warriors), when you feel already recovered and well activated with a Colombian (or international) super breakfast specially prepared by a private chef at home, we will take you to visit the charming town of Guatapé, 1 hour and 45 minutes from Medellin, where you will meet and climb the incredible huge monolithic stone called "El Peñol" and from the heights you well see the beauty of the Guatapé reservoir, probably one of the most beautiful landscapes in the world.
After lunch, you can choose between, sail on a party boat, ride on jet skis or fly through the skies on a fly-board machine, all this in the same lake of Guatapé.
Before dusk falls and you return home, you can walk (beer in hand) through the streets of the colorful town of Guatapé, eat some deserts, take some more photos, buy souvenirs and crafts for the bride and your families if you want.
At night, back in Medellin, in your house, we will have prepared a crazy private pool party, with a chef, DJ, bartender and the most stunning girls you can imagine. Yes, you will all feel so pampered and amused like true Arab sheiks, that's what we call the bachelor party in Medellín (the Bachelor Parties Colombia VIP style).
On the last day of your bachelor party weekend in Medellín Colombia, we will make sure you go home in one piece. Yeah guys, depending on the time of your flight back home and after so much madness and fun the last days, we will persuade you to detoxify and revitalize your mind and body so you will go back home as new.
A complete breakfast with fruits and vegetables included, a green detox drink, some massage therapy girls experts in relaxing massages and skin care, will leave your muscles, face, skin and nervous system as new!
If the departure time of the flight allows it, that day we will offer you some activities or short tours for your choice.
When the sad moment arrives, we will take you to the airport after a small farewell amusement.
But hey, enough crying, remember that to enjoy our bachelor party in Medellin experience (or even a bachelor party in Cartagena) you do not need to be about to get married, our plans for a weekend getaway with your friends or even one of you alone, will be at your command when you decide to enjoy again Medellín or Cartagena Colombia again, we are waiting for you! Thanks for reading this, take care guys!
If You Liked, Would You Rate It?