Planning A Medellin Bachelor Party?
In this Colombia Medellin Bachelor Party Guide you'll find all you need to know to throw an outrageous Bachelor Party Trip in 2020
Why you Should Plan a Bachelor Party in Medellín Colombia? (Not Columbia)
In this Medellin Bachelor Party planning guide we show you why you should plan a bachelor party in Medellin and what are some of the best bachelor party ideas and things to do here to build an incredible Medellin bachelor party package. From wicked private pool parties to some of the best night clubs in the world, adventure tours and VIP services designed to entice your senses.
And because we are all grown men here, we'll go straight to the top stag parties ideas that can make planning a bachelor party trip an easy-breezy task.  Our VIP Medellin Bachelor Party Experience is Different! Bachelor parties in Jaco Costa Rica and Panamá have nothing on Colombia, not even Vegas! In fact all the really hottest women in Panamá and Costa Rica come from Medellín.
Considered by many Colombians as the true capital of Colombia, Medellín is actually capital of the Antioquia department, located in the Aburrá Valley and has more than 3 million inhabitants. It is actually, the second most important city in the country in economic terms and without a doubt the most exciting and innovative with its massive transport systems such as the metro, tram, cable car, and others.
Forget Pablo Escobar (the infamous drug lord) and his reign of violence, he is done, and so Colombia's bad reputation.
Medellin has probably the world's best weather but we both know you're not coming down for a Bachelor Party in Medellin because of the weather. Medellin is the Mecca for bachelors seeking to transgress (or not) some of the known bachelor party rules and no one else in this city has the bachelor parties itineraries and the stag do expertise we do to accomplish that purpose.
Medellín, The City Of Eternal Spring
(The Sin City Of Colombia)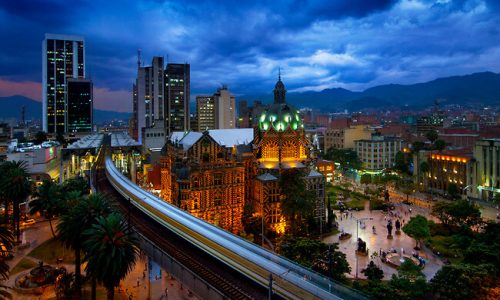 How To Plan A Bachelor Party In Medellin?
1. Find a Bachelor Party Friendly Accommodation Where To Stay
First of all, for any successful Medellin bachelor party, stag party, getaway or lads weekend away, the groom or his best man has to plan ahead and get an amazing private party house, country villa, mansion or any other bachelor party accommodation where you can get wild and funny to the top without any problem and, of course where you can also rest like a kings.
Without a doubt, El Poblado (just 35 minutes from the José María Córdova airport where you will land) is the best area to stay for your party weekend (or week) in Medellín, ideally try to stay near Parque Lleras and La 10 (10th Street), Provenza, El Poblado Park or El Tesoro. Aside from El Poblado, only Laureles would be a nice option.
Beware of residential houses or apartments on Airbnb and other vacation rentals sites. You and your friends can easily be kicked out in the middle of a party from one of those accommodations, even if they assure it to be bachelor party friendly. You need a 100% bachelor party-friendly house, and for that, we can only recommend a few.
Check out our special selection of bachelor party friendly vacation rentals in Medellin Colombia, and know in advance where you will stay and enjoy wild VIP pool parties, Colombian strip dancers shows and all your personal fantasies.
Get to know Medellin and have an amazing time doing it, include some visits to entertainment parks, museums, tourist lookouts, an other tourist attractions such as El Pueblito Paisa, Parque Explora, Jardín Botánico Joaquin Uribe, Parque Arví, Plaza Botero, Atanasio Girardot Stadium, Comuna 13, take the Metro, and Metro Line and enjoy  exclusive foods and drinks.
Get to know the city from the air taking the exciting Helicopter Tour and see why Medellín was the most innovative city in the world awarded in 2013 by a world wide contest.
2. Experience Medellin Colombia
3. Boat Party & Extreme Fun in a Guatapé!
Get out on a party boat in Guatape, Colombia's Key West with mountain tops!
Guatape a 90 minute ride from Medellin is like nothing else I liken it to Key West but in the mountains.
Here you can have epic boat parties with amazing entertainment that NO ONE else can get.
Jet Ski in serene calm conditions unlike anything else and if your more adventurous Zip Line, Horse Back Riding, Mountain Biking, and Climbing a huge rock called the Piedra el Peñol that nobody can explain its existence, and more!!
We especially recommend a boat rental with jet skis, drinks, chef and girls for a crazy Bachelor Party in Medellín.
Leave Medellin early in the morning and ride through the lush green valleys of Antioquia.
We will arrive around 11 am into the bizarre world of the Hacienda Nápoles, which was Pablo Escobar's main compound and now was made into a museum, theme park where you will have the opportunity to learn about Pablo Escobar's life and see his former residence and it's entertainment spaces.
In the evening you reach the private nature reserve Rio Claro and enjoy the pristine waters and natural pools. Spend the night at the Eco-Lodge El Refugio surrounded by tropical forest and the Rio Claro River.
4. Visit The Amazing Hacienda Napoles
Squeeze your stag day plans, venture on an exciting trip to the hills of Medellin in a powerful ATV vehicle with certified and bilingual instructors that will guide you to the rural areas of Medellín for a private ATV ride.
You can take for granted that we will handle everything you need for your maximum enjoyment, before, during and after this nice ride.
Experience a  magic flight with no previous experience! Fly in tandem with an experienced instructor who controls the paraglider while you relax and feel the thrill of flying above Medellin.
Experience Medellin from a different side and let your adrenaline flow, of course with the safety of a parachute.
We can offer you that unforgettable opportunity to parachute and watch the beauty of Medellin from the heights.
6. Get Extreme and Jump Over The City
Colombia is all about freedom and liberty, imagine driving through the Colombian country side through the village of Santa Elena just 45 minutes to Medellin.
You will take the Metro Cable and see some of the most beautiful views you will ever see in your life, when you arrive to the top, your Dirt Bikes, Instructor and equipment will be waiting for you.
Motorcycle, Accident Insurance, Helmet, Gloves, Chest, Bilingual Guide, Gasoline, Hotel transfer office, is all include.
Every great bachelor party Medellin must have this!
Watch this Medellin pool party video to get a better idea of what we are talking about and how your pool party could look like.
We can get you a VIP party house, with DJ, catered by a professional chef, and our signature concierge service that is with you throughout the entire time to get you the best company and stuff in the city.
All what you need when you need it, and get you into where you need to be when you want to be there, and make sure you're safe along the way during your VIP stag party Medellin.
8. An Unforgettable VIP Pool Party is a Must!
9. Dress Stylish and Meet Medellin Nightlife
After a well-spent day, prepare to visit the wild VIP nightlife of Medellin across Lleras Park (Parque Lleras) in El Poblado, Carrera #70 and more for your stag night activities.
There are many options for spending a great bachelor's night in Medellín, but don't worry, we are here to help you plan this memorable moment, and we already have all the details spotted for you and your crew.
This may start with an excellent place to eat and drink a little, but we know that at some point in the night you will want to visit the best and hottest locals in the city.
From ideal nightclubs and strip clubs with VIP bottle service and table service, to limousines or party buses to take you to the best VIP private parties in Medellín, where you will definitely can see gorgeous topless dancers and impressive Colombian talent girls, indeed everything you need to make your Stag Party in Medellín Colombia a wild and unforgettable epic event.
Make It Happen, Our Bachelor Parties Colombia Team is Ready To Exceed Your Expectations!
Prepare to enjoy Medellin's most exceptional bachelor's experience, whatever you need, whenever you need it will be at your fingertips. Our VIP Bachelor Party Services include from City Concierge, Transportation, Private Chef, Barman, DJ, to very kind friends / outrageous talented girls and more, a lot more!
Or do you prefer to whatsapp us?
Dreaming a Caribbean Experience?