Let's be honest, who has heard about Colombia and have seen its touristic places and WOMEN, might have wondered what would it be a bachelor party in Colombia.
Truth be told, both Cartagena Bachelor Party and Medellin Bachelor Party are probably the best bachelor parties and weekend getaways in the world that money can buy, and best of all, not a lot of money.

Even the most luxurious and high-quality vacation rentals, clubs, stunning beaches, lakes and islands, the sexiest Caribbean cities and modern evergreen cities with perfect weather and the kindest people can be twice cheaper and much more interesting than Las Vegas, Nevada!
BUT (everything in this world has a but) you must have a plan, you have to know what is the best of the best things to do here in Colombia, the favourite tours and top entertainment places to enjoy the most.
But as in Bachelor Parties Colombia, we work so that your dreams are fulfilled, we have written this post not just to tell you how to organize a bachelor party with success in Colombia, but to give you a painless and tailored key on hand Colombia Bachelor Party Experience.
First, how do we get to Colombia?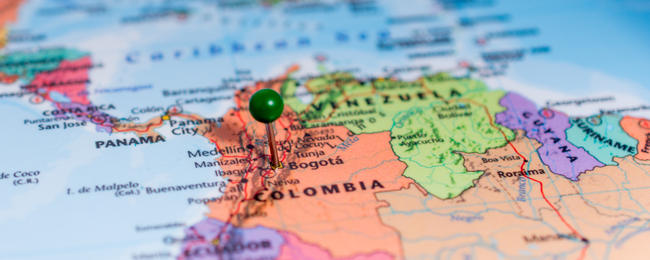 It seems simple, right? It won't be if you don't plan in advance. Colombia and especially Cartagena is known as a worldwide summer vacation destiny. Even Medellín can be in some seasons (November-December-January) difficult to book for medium to big size groups.
So book your flight in advance to save some money and your seats with no problem.
Today the following companies have flights to Colombia from the USA and North America: VivaColombia, American Airlines, Avianca, jetBlue, LATAM Airlines, Delta flights, Spirit Airlines.
HOW TO ORGANIZE A BACHELOR PARTY IN COLOMBIA?
When selecting the type of accommodation you have to take into account (1) what you are looking for (2) what there is and (3) the minimum nights that each establishment requires.
We always recommend choosing a bachelor party friendly vacation rental (text link to Vacation Rentals), where you can have all your crazy pool parties, hangout moments, erotic shows and all of our VIP Services, and of course, where you can all rest like kings.
Even more, we can only provide you and your group with the very best Colombian VIP Services while staying in this type of accommodations.
Some of our Private VIP Services in Colombia are, VIP Concierge, Relaxing Massages in your room or by the pool, private bartender, chef, DJ, gorgeous friends, and all you can ask for…
So you better check the full list of our spoted VIP Vacation Rentals.
And by day, what do we do?
Apart from all traditional activities for a typical Bachelor Party in Las Vegas, we have a lot more plans to spend in an unforgettable bachelor party trip in Cartagena or Medellín, so you can already know what are the coolest ideas and activities for your Colombia Bachelor Party.
Paintball, Hang gliding, parachuting, paragliding, Thermal flights, ridge soaring, and long XC flights, kayaking, rafting and water skiing, jet ski, karts, speed boats, party boats, island hopping, water banana, city and towns tours, ATV rides, Dirt Bike tours, climbing and mountaineering, bird watching tour, helicopter tour, and even a lot more…
So, as you can see there are a lot of options to do in Cartagena de Indias and Medellín for a memorable and epic Bachelor Party in Colombia.
So once more, how to organize a bachelor party in Colombia successfully?
Of course, one of the most smart-like plans is to get an all included Colombia Bachelor Party Package. And without a doubt, Bachelor Parties Colombia is by far the Best Bachelor Party in Colombia Agency to get yours.
If you want to go big, epic and out of hassle, check our Bachelor Parties Colombia Packages and when booking use the code "BachelorPartiesColombiaRocks" and you will have a discount of $50 on the global reservation, just because we believe that after reading our "How to Organize a Bachelor Party in Colombia Successful" post, you really want to have an amazing and epic Colombia Bachelor Party.
So all this said, we think all that you may have to ask to the rest of your crew is…
If You Liked, Would You Rate It?